Surface Mounted Non-contact Temperature Detection Infrared Sensor STPSMD38
Product Detail
Product Tags
The surface mounted (SMD) type contactless temperature measurement sensor STPSM38 is a new type CMOS compatible thermopile IR sensor, featuring good sensitivity, high reproducibility and reliability. The sensor enjoys a compact and size and easy to integrate due to its ceramic package. The SMD38 sensor is widely used in the application of high precision temperature measurement, intelligent wearable devices and human-machine interaction.
The SMD38 is a far infrared, non-contact temperature sensor which is factory calibrated to a high accuracy. Internally, electrical and thermal precautions are taken to compensate for thermally harsh external conditions. The thermopile sensing element voltage signal is amplified. A major strength of the SMD38 is that these temperature differences around the sensor package will be reduced to a minimum. However, some extreme cases will influence the sensor. The accuracy of the thermometer can be influenced by temperature differences in the package induced by causes like (among others): hot electronics behind the sensor, heaters/coolers behind or beside the sensor or by a hot/cold object very close to the sensor that not only heats the sensing element in the thermometer but also the thermometer package.
It's widely used in: High precision non-contact temperature measurements, Body temperature measurement, Non-contact thermometer for mobile and IoT application, Temperature sensing element for residential, commercial and industrial building air conditioning, Industrial temperature control of moving parts, Home appliances with temperature control and healthcare, Livestock monitoring.
Electrical Characteristics

Pin Configurations & Package Outlines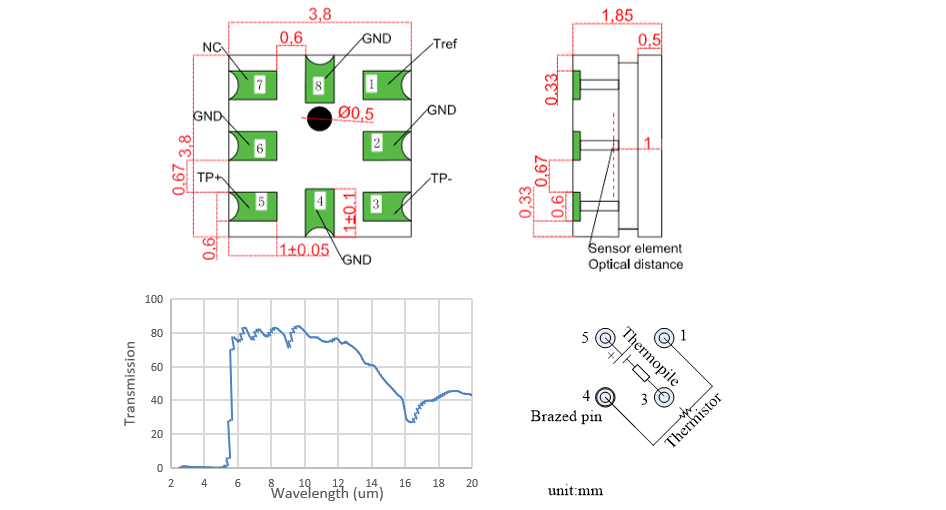 ---
---
Write your message here and send it to us